Welcome to our B&B and rehearsal studio
Beautiful surroundings, healthy living and a relaxing atmosphere at the confluence of the Harrison and Fraser rivers, Harrison Hammond House B&B and Rehearsal Studio are in a 25 secluded acres farm circled by coastal mountains just 1.5hrs away from downtown Vancouver.
From here you can walk to Kilby museum and beach where you can launch your boats, enjoy the Sandpiper golf course, ski on the Hemlock mountain, have a paragliding experience and visit Harrison Hot Springs easily. The Harrison and Fraser rivers are known for fishing and kayaking trips. Eagle watching sites and salmon hatchery are close by. Other amenities are 10 minutes drive away into the small town of Agassiz. Visit our Attractions to see abundance of activities.

Year round strolling at the farm while experiencing country tranquility and soaking in the hot tub while stargazing, you will be lost in the changing nature at her most beautiful. Watching the spectacular snow capped mountain views from living and bed rooms, meditating at the campfire or wood burning fireplace, you can relax your body, renew your mind and rejuvenate your spirit.
All season enjoyment with back up power and every month a different hideaway feeling uncluttered from urban mayhem. Flowers and garden preparing in the spring; blossoms and organic vegetable, berries picking in the summer; colors and fruits, hazelnuts harvesting in the fall; snow, holiday and storm watching in winter, this is a place to reconnect you to nature, recharge you with energy, reflect your real values and create lasting memories whether it's a weekend getaway, an extended farm stay vacation or a corporate reward holiday.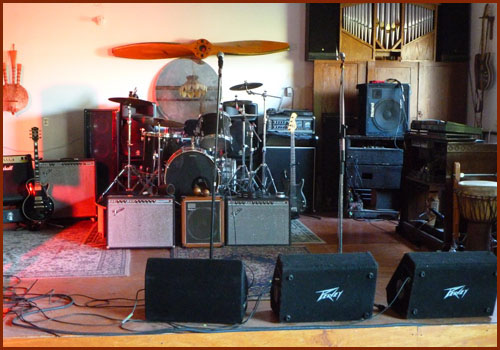 Our rehearsal studio is an instrument and light equipped 16'x20' stage in a 1400 sq. ft. room. It is ideal for CD release, music videos, tour preparation, recording, or general get together for musicians, family and friends.

The 2,000 sq. ft., open living room, kitchen and solarium room offer picture window views. It is a wonderful place for discussion group meetings, family celebrations, weddings, retreats and workshops. Check our Accommodation or Contact us for details.